Customer Reviews
---
A Keller, PA 04/13/202110/10. Great products and awesome customer service! Would absolutely recommend.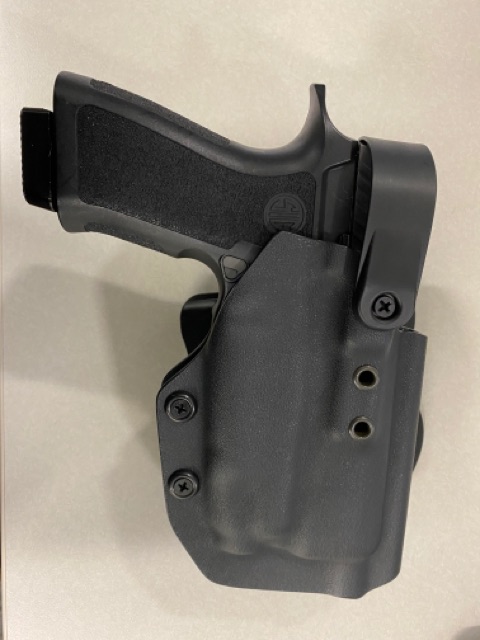 Shawn B, Maysville CA 04/06/2021
Just got my AIWB holster the other day and the craftsmanship is by far amazing. After changing the clips to some angled ones by StealthGear USA the holster is way better than the cheap Amazon one I had. Dual clips are by far a better choice than just one. Holds in place much better. This is my second one from Red River Tactical and I will make sure to pass on then to anyone else in need of a holster. Keep up the great work.
Brad S, Lubbock TX 04/05/2021
I've bought many holster for my guns over the past few years and never quite found a brand I liked. I found some that fit good, but were bulky and rough. I found some that were sleek, but didn't retain my pistol at all. This holster is by far the best kydex holster I have ever purchased. Quality of the holster, fit and retention of my pistol, and great price are all spot on. I don't mind waiting a little while to get a great product, and this is a great product. I will definitely purchase holsters from RRT again!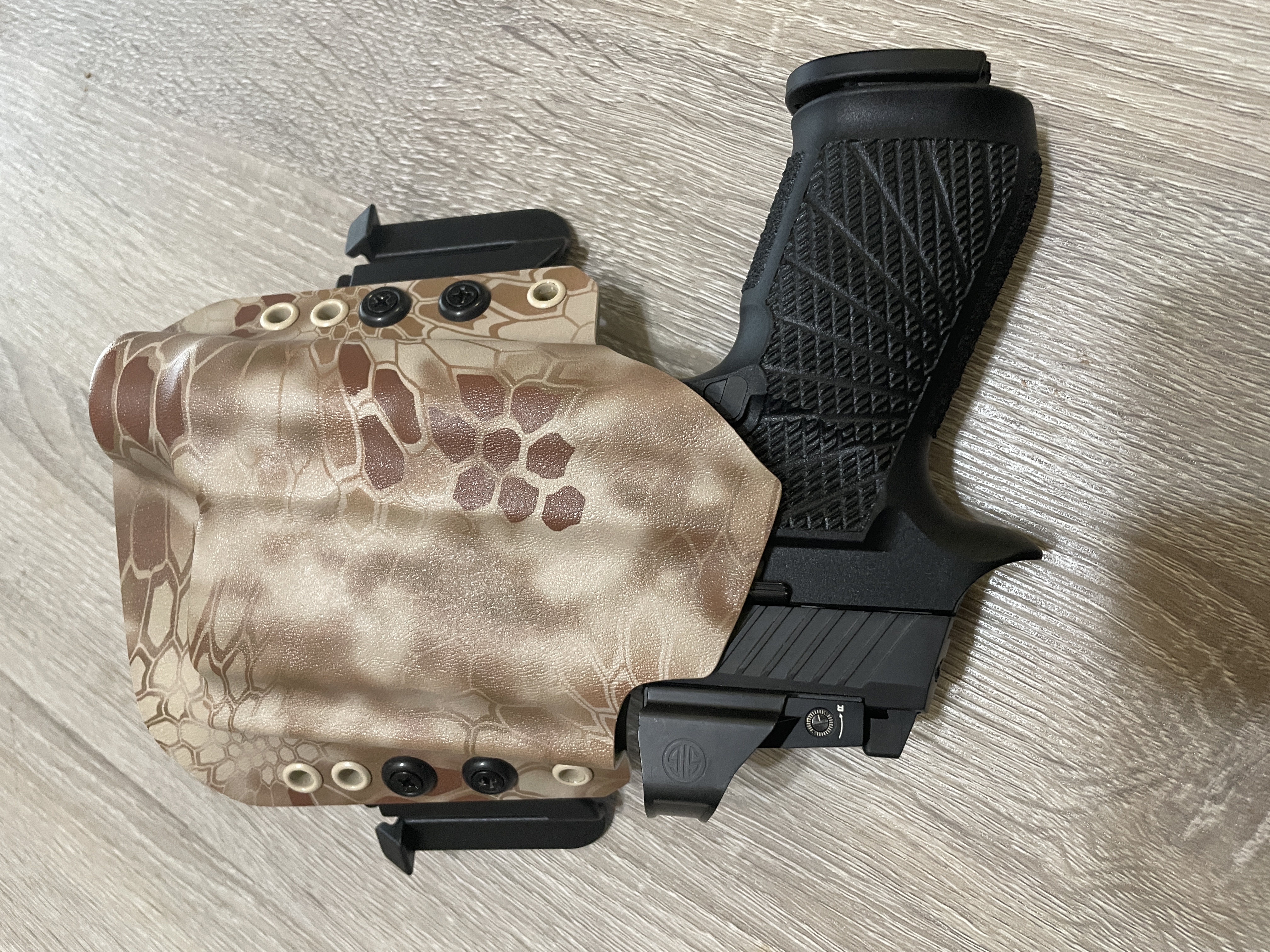 Jordan-Idaho 03/19/2021
Tried to find a holster for my light bearing Walther PPQ Q4 and none of the other companies I talked to could help me out. Got in contact with RRT and Chasi quickly responded and helped me get a custom order set up. Ended up ordering two holsters, both of which fit perfectly. I am extremely impressed with the quality of the holsters, and all at a competitive price point. The lead times are understandably a bit long right now, but it is absolutely worth the wait.
Oscar C., San Antonio-
All I can say is AWESOME! Love the holsters.
March 1, 2021 at 10:38 pm
Abby C., Mesa-
I have been trying to find a holster for my Glock 19 gen 5 MOS, with suppressor sights, threaded barrel, and NO flashlight. Every other company I tried prior to Red River, either didn't know what the hell I was talking about or did not have anything for MOS without a flashlight. Chasi was extremely helpful from day 1. The holster fits awesome and easily swaps from the OWB and to the thigh rig. Will only be ordering my holsters from Red River from now on!!
February 17, 2021 at 11:59 am
Brodie K., Manchester- 
I've been meaning to write this for a while now. I have bought two holsters and one mag holder form Red River and I can't express how impressed I am with this company, ALL AROUND. Their customer service representatives are TOP TEIR! With every order they have gone above and beyond to ensure that I get EXACTLY what I want. My first holster was a custom job, Duty Light Bearing Holster for my Sig M17. This pistol was relatively new at the time of my first order and the option was not available on their website. I called and the rep was so helpful and polite. he ensured that I properly put in the characteristics so that there were no problems. Afterward, he called me just to touch base and let me know that it might be delayed…… WORTH THE WAIT!!! Crisp, positive and well constructed. My next purchase was about 6 months later. I ordered a single, double stack mag holder (for obvious reasons). When I put my order, in I got a little mixed up and requested it for a right-hand draw. The person making my mag holster noticed that I previously ordered a right-hand draw holster and emailed me to confirm. Chasi corrected the order on the spot, saving me what would have been the cost of my own error. After I sent the email I realized that they COULD fulfill the third order that I just put in for a type 1 holster that I put in at the beginning of the month and save them the cost of shipping. They were already on it! Chasi had seen the most recent order and had already gotten to work. I've been carrying for over 15 years and have never had a better holster. I will go farther and say that I have never had a better customer service experience with a company. Red River Tactical and their staff deserve every accolade you've seen here and I will exclusively do business with this company from now on. Thank you to everyone at RRT. You F-ers' are awesome!!!!!!!
January 27, 2021 at 5:56 pm
Nicholas, St. Louis-
Ordered 2 Special/Custom Order Duty Light Holsters for Springfield XD's. They both were special/custom holsters made to order. They both have exceeded my expectations. The value and craftsmanship of these holsters are not even comparable to other holsters that I have used and have experience with. I will never order from another company again. All of my holsters from now on will be ordered from Red River Tactical. Not only are the holsters phenomenal, but the customer service is the best in the business. Support small business and family. They responded to emails within a few hours, even on weekends, and also were quick to return phone calls. They called just to clarify the custom order before they began to make the holsters. Amazing, Amazing, Amazing
October 2, 2020 at 9:20 am
Ted-
Purchased a Duty Light Holster (Light Bearing Only) for a Glock 19 Gen 5 w/Surefire X300U-B. Order was completed in 7 weeks exactly, just as the lead time stated. Most companies don't give the option to pick between the Surefire X300U-A and the X300U-B but there is a major difference in the fit for the holsters. Mounting options are above and beyond. Chose a bladetech DD/OS Gen 2 for my range belt, which fit perfect and came assembled with extra loctite just in case. Best holster I've ever purchased and I've tried a lot. You can't go wrong. Excellent customer service. They have my business from now on.
August 3, 2020 at 1:30 pm
Michael F-
Just placed my first order with RRT and am absolutely blown away by there customer service. I took a shot in the dark emailing customer service about making me a custom holster for my Sig P250 compact 9mm w/TLR2 using the P320 rail key. Every other manufacturer that have kydex holsters are using different rail keys for the laser/light mold and either can't or won't make me one. One email to RRT and they gave me a step by step on how to order a custom holster. I can't wait for my new holster!!
June 6, 2020 at 1:39 am
Travis V- Coyote Cords
I literally have hundreds of holsters. After purchasing my first RRT holster I was hooked. Hands down the best quality in the industry. Great people and a great company. Every handgun I purchase from now on will be dressed in the best!
April 15, 2020 at 8:55 pm
Sean, Albuquerque-
Amazing craftsmanship and pricing. Waited a little while for it but the lead times are very accurate and it is definitely worth the wait for a custom holster. I reached out to many other well known holster makers and Red River Tactical was the only one willing to accommodate my pistol and light set up. Will be back for more holsters, thank you!!
April 10, 2020 at 11:02 am
Jim, Little Rock-
Not sure I can adequately describe how impressed I am! I received my order today, and I knew I had made the right choice with RRT as soon as I got the box open. Moreover, my pistol fit like they had it to make my holster – absolutely no adjustments necessary at all! I use (and prefer) paddle holsters – RRT got the paddle part right as well! I firmly believe that more people who carry OWB would opt for paddles if it was from RRT. Sig P320C with suppressor height sights, TLR-8, Trijicon RMR.
March 17, 2020 at 11:24 am
Rick B-
Love my new holster! I ended up getting both you can tell they really take their time with the finishes and details. Its lefty's friendly which is great because there aren't many options out there. They even took the time and explain to me the differences between them and how to order the right one for my gun. Cant wait to take it to the range!
February 14, 2020 at 8:11 pm
Dan-
This is the first time that I have purchased anything from Red River Tactical and it will not be the last. From the beginning with calling in and asking questions to my specific needs all my questions were answered quickly and more importantly correctly. Even when my order was shipped I asked for the tracking info and had a response in less than 20 minutes which is excellent. Regarding the product i was skeptical that it would fit as i needed it to but found that the fit could not have been better from the holster. I had the Level 2 Retention kit installed and it works flawlessly with no lag or hesitation. The leg strap that I bought also rides well with no binding. The holster cam fully assembled to include the retention hood and the leg strap. Great product made in America by my fellow veterans and strongly recommend this company. Regards, Dan US army
January 31, 2020 at 7:22 am
Aaron B-
Adam is a true master of his craft and trade! I've ordered three custom holsters so far and they're by far the best quality I've experieed in the kydex world of holsters. RRT customer service is impeccable and in alignment with their product quality! Hands-down the best custom kydex on the market!
January 22, 2020 at 1:03 pm
Ryan B- 
I spend hours contacting and waiting on different companies that allegedly "make custom holsters" only to find out, they can't make the exact configuration I was looking for…… nonetheless, when I came across Red River Tactical, I emailed them and asked if they were able to make a custom outside the waistband holster for a S&W M&P 2.0 9mm 5in with a surefire x-400u green laser. Now, for those that don't know, that's a pretty unique configuration to which most companies will not make because it's not common. But Red River exceeded my expectations, they got back to me really quick, assured they can make the holster and they made it in the timeline they promised. First impressions with the holster were that it was a snug fit, good retention and the hood retention was the best part because it is effortless for the shooter. Excellent job and I will refer anyone I know to this company and I will continue to show my support for them. Thank you Red River.
May 11, 2019 at 5:43 pm
Cesar R- 
Worth every penny and the wait, I order 2 holsters (Sig 320Rx Compact and Glock 19 Gen 5 MOS with a Trl-7 Streamlight), around Dec. 2018 and come to my door in Feb 2019, I was informed at the beginning it is going to take that long, just perfect pice or work, loved nice and quick draws, light weight, had a couple questions and Ray answer all of them in a moment….. A+++
February 27, 2019 at 10:01 pm
Theo-
Wow, can't say enough about these folks or the quality of products they produce. Trying to find a duty holster that would accommodate what I wanted was a nightmare until I stumbled across them. They were diligent during the process, quick to reply, and knowledgeable in EXACTLY what I was asking for. I couldn't be happier with the finished product. 5-stars all around. I will be a repeat customer for all my custom kydex needs.
January 5, 2019 at 7:42 pm
Patrick- 
I just received my holster order this morning. I could not be more pleased with this product. It fits my CZ Phantom perfectly. Although the order took a while to get it was well worth it. I have a CZ SP-09 I will be looking to get next. Thanks Red River Tactical.
November 8, 2018 at 5:46 pm
Keith Marquardt- OR
A+++ holster and great company. I will be recommending Red River Tactical in the future. Thank you for the great holsters.
2018/06/09 at 11:42 am
Sean- TX
I orded a double mag carrier (OWB) for a Glock 9MM. I was very pleased with the quality of workmanship. I couldn't have been more please with the product. 100% satisfaction with the quality of the carrier and the price, was worth every penny.
2018/05/18 at 4:32 pm
Maurice Tucker- El Paso, TX
Ordered two Duty Light holsters for my G17 and Sig X-Carry and cant say enough good things about them. Fit and finish is perfect and my guns fit perfectly. Also appreciate the fact that all mounting hardware came already attached, these showed up range ready. They kept in contact with me during the entire process and shipping was fast. I will highly recommend this company to everyone I know who wants a quality holster. Thank You Red River Tactical and believe ill be ordering my next deployment holster from you here real soon.
2018/05/09 at 10:14 pm
Jeff L-Baltimore, MD
Awesome IWB holster. Was a little delay in receiving it but was worth the weight. Well made, perfect fit for my Sig P320 SC and wave comfortable to wear. Had a few questions and I got a quick response from Ray who was very polite and helpful. Look forward to getting another holster in the future. Keep up the great work guys.
2018/04/23 at 5:56 pm
Robert B- Palmyra, TN
Haven't found many places that make inexpensive holsters for a SCCY, but RRT does. Just placed my order so don't have my holster yet, but I do like the company. In this digital world it's nice for an analog person like myself to talk to a real person and that is what I found at RRT. I'm an oddball when it comes to certain things and he helped me with my oddball requests for my holster. In short, so far I am very pleased with the service of the company itself, can't wait to try out my holster.
2018/03/26 at 3:56 pm
CYLE KING- BIRMINGHAM, AL
I ORDERED THE V2 IWB FOR A G43 WITH A TLR6 AND S-CO BARREL. TOOK ABOUT A MONTH TO GET THE HOLSTER BUT UPON RECEIVING IT, ITS THE BEST HOLSTER IVE OWNED YET. GUN FITS PERFECTLY AND HOLD VERY NICE. EXTREMELY COMFORTABLE GREAT RETENTION. I WILL BE BUYING MORE OF THESE HOLSTERS
2018/03/13 at 4:42 pm
Tim- PA
I have ordered 5 holsters and 1 mag holder so far from RRT. The fit and finish of their products are excellent and their customer service is unmatched. Their holsters and magazine holders are high quality, dependable and always a perfect fit.. Would highly recommend.
2018/02/19 at 4:59 pm
Michael Clift- Belmont, OH
I have placed four orders and all have been Fantastic. Since the company is becoming well known and popular the wait time has increased but, that just means they are doing a great job in fulfilling customer needs and requirements and are in strong demand. Fit, finish, strength, applicability, and funtion are perfect for my needs. I have holsters and double mag pouches for the following: Sig Sauer P320RX, Sig Sauer P226 MK25 Navy RX, and Glock M17 Gen 5. I can't say emough good comments about the perfection in these holsters and mag carriers. Robust, double kydex construction, multiple options on retention and mounting platforms and diversity in applications and use. Highly recommended! You will not be disappointed. Any Problem or discrepancy and they are a phone call away with the solution. Guys and Gals! Look no farther for your Holster and Product Needs.!!!!!
2018/02/02 at 11:40 am
Gary K- TX
I also ordered an OWB for a Sig P320 Rx. It is a great holster. Well worth the money. Thanks RRT for producing a great high quality product. I had to send an email to ask a question about my order and got a response early the next day. Their customer service is just a great as their products.
2017/12/21 at 9:16 pm
KYLE JONES- FLETCHER, OK
Absolutely a great company and find. Customer service is outstanding, prices are comparable if not better than other sites, products are of great quality and absolutely would rate at 5 stars.
I happened to come across this site and products through Google and am really glad I did. I ordered a holster and mag holder for my Sig P320 compact through the site. I am extremely satisfied with the look, feel and quality. I highly recommend to the point that I just places another holster order.
2017/11/15 at 2:35 pm
Matt Williams-Geronimo, TX
Ordered light bearing duty holster for my Sig P320 full size. The holster arrived quickly and was more than I expected. The quality is fantastic and customer service was great. The holster fits my pistol perfectly. Worth double what I paid. Will order again and have recommended RRT to several friends already
2017/11/11 at 10:10 pm
James Warren- Greenfield, IN
Just received my third RRT holster for a G4 17 with TLR 1-HL and as always couldn't be happier.
The quality is 'spot on' and it was delivered a few days after completion notification email.
I have tried holsters from various vendors, not anymore!
Red River Tactical is best quality for the money, nuff said!
2017/11/06 at 10:53 am
Jason- GA
I was in the market for a good solid EDC holster for my 320F RX, did plenty of online research and Red River is one of few if not the only that will build a holster for it, so with that discovery and wanting a flashlight on the pistol, I used Red River's site to determine the light I would buy cause they can fit it. So after some more research I went with a streamlight tlr-1 with 800 lumens. Paid the money to Red River for the type I OWB light/laser bearing with the suppressor sights & RMR cut and waited about 10 days before emailing about my order cause I was an excited little nancy and Ray responded the sameday an assured my happy go lucky a** that they were just finishing it that day and would ship it first class later that day. I received my holster and the quality and care put into it makes you forget that it's just somewhere to put your gun and makes it an art piece. It's great workmanship and Ray is a straight shooter, they'll have my business for quite a while if not indefinitely cause I'm planning on another with RED RIVER TACTICAL order just for range days.
2017/10/28 at 8:44 am
Sebastian- Naples, FL
I got the light bearing holster and it rocks! The work out into these holsters is crazy. The attention to detail is phenomenal. I love how smooth they feel and they're so easy to carry and very easy to change the cant. I had to Contact them a couple of times with questions and was answered within an hour! The customer support is truly there .Will definitely be ordering again for sure!
2017/10/18 at 1:00 pm
Dale E- Dayton, OH
I was having trouble finding a left-handed holster for my Sig Sauer P250, thankfully, my nephew recommended Red River Tactical.
A quick visit to the website and my problem was solved. My custom-made holster arrived much faster than expected and fits perfectly.
It's easy to recommend RRT- Thanks again!
2017/10/16 at 5:45 pm
Matt-Clarksville, TN
I first saw the Red River Tactical Holsters at a gun show in Nashville. Didn't think much of it until I felt one. Instantly fell in love. I started with an IWB for my Glock 43, I could not have been happier. Then I got one for my Glock 19 and 23, these are the best holsters I have ever used. I have driven from TN to MN with my 19 IWB on my appendix the whole time. Very comfortable.
2017/09/08 at 11:16 am
Vince -Florida
I have owned many, many holsters over the years. The conceal-ability, quality, fit and finish of these holsters are heads above the competition! The price is a just right! The customer service is excellent! You can't go wrong!
2017/08/24 at 1:41 pm
Robert-Clarksville, TN
Needed a double magazine carrier for an upcoming 3 day tactical handgun instructor class, and wasn't able to find anything just right in most of the shops I visited around town.

I remembered Red River Tactical from a local gunshow (I purchased a nice G43 holster that I still use today) and called them up to see if they had any available. They didn't have any on hand, but said they could get one made in time for the class and it was a great price. Even with the short notice they came through with incredible customer service and a quality product. The carrier worked great during the class and other instructors there were asking about it.

Would definitely recommend.
2017/05/24 at 6:24 pm
Mike-GA
My new Red River Tactical holster for a SIG P320 C RX is, by far, the best Kydex holster I've ever seen. The attention to detail is amazing, the fit is perfect, every edge is wonderfully rounded and smoothed, it's truly comfortable to wear, and the graphics are wonderful. Quick shipment and great price for a custom made holster. Thanks, Red River!
Mike-GA
The attention to detail on this holster is like nothing I've ever seen in Kydex – the edges are perfectly smoothed and rounded, the fit is just right, the tension perfect, the clip strong, and the graphics (Stars & Stripes), in my humble opinion, are pretty special. Great service, very reasonable price – just right! Thanks, Red River Tactical!
Richard B-NC
This is the first Kydex holster I have purchased, and I wanted to comment on how well it was made and how well it fits. The custom finish I ordered for it is excellent and I will recommend these holsters and company to anyone who is looking for a quality made product. The customer service is also excellent, when I completed my order I noticed that the shipping address had not went in correctly, so I emailed them (after hours) to have them correct it and I received a reply the very next day letting me know that it had been corrected. I will purchase a holster for my next pistol from them as well.
Tom Brown-TN
I recently purchased a Sig P320 RX Compact pistol. Holster options for this pistol are very limited currently. I did some searching and found Red River Tactical. I sent an email with some initial questions before thinking about placing an order. Within 10 minutes I had a response to my email and the response I received contained very detailed answers to the questions I had asked. This impressed me a great deal and gave me the assurance I needed to make the decision on ordering a holster from Red River Tactical.
Upon browsing their website I was very impressed with the customization options available for customers. I proceeded to customize a holster and mag carrier set according to my specifications. As I was doing this, I was thinking that with the amount of customization I was ordering, this holster would surely have a longer than normal lead time over any "ready-to-ship" holsters. Well, I placed the order on Thursday morning, and I was surprised to find my order on my doorstep in 48 hours. To receive this type of service with a customized product in the holster market today is very unusual.
Even with the short lead time, the quality of my order was simply outstanding in every way. The craftsmanship on my order told me that the individuals who made my gear had an extreme eye for detail and were very skilled in what they do.
Bottom Line: If you want an outstanding holster from a company who goes that extra mile for their customers in everyway possible, look no further than the professionals at Red River Tactical.
Tom Brown
Currie R-LA
The agency I work for requires all personnel (even Detectives) to have Level II retention and a friend of mine just purchased a holster from RRT. I was, to say the least, very impressed with RRT craftsmanship. I decided to purchased a Level II holster from this outfit and could not be more pleased with the product. I sent an e-mail requesting this product as I did not see an option for a Level II and received a reply just a few hours later. I was then able to speak with Ray and iron out the options for the holster. I was so impressed with their level of service that I also purchased a dual magazine pouch. The transaction was smooth and I am beyond pleased with this purchase. If you are looking to buy a Kydex holster of superior quality and great customer service before, during, and after the sale, then look no further.
Ray Ferguson-TN 
100% satisfied customer! I bought a holster from Red River Tactical this past weekend at the gun show in Nashville, TN. Very high quality workmanship. A couple days later I decided to order another holster. I ordered the holster online Wednesday evening and was notified Thursday morning that the holster was finished and had already shipped out. I received the holster in the mail today! 3 days to make, ship and receive a custom holster is unheard of. I will only buy Red River Tactical from here out. You cannot and will not beat Red River Tactical on pricing. Thank you for your professionalism and for your service!
Ray Ferguson
Owner
SWAT Personal Defense
Brian Clyburn-Westmoreland TN
I purchased another IWB holster for my XD Mod 2 9mm and have been completely satisfied..100% top quality and fits like a glove. I will definitely purchase from RRT again..
Kevin Tarbell-Knoxville TN
Great service and the holster fits like it should and if needed it can be adjusted very easily. Mine fits perfect the first time. love it and very comfortable and safe.
Jonathan Quintanilla-Clarksville TN
Great holster for a big gun like the FNX 45 Tactical. Fast turnaround too got it within two days of Placing the order. I love it and well back for more from RRT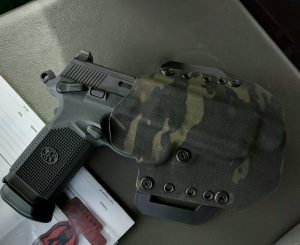 Dale-TN
Awesome holster for the S&W 642.
Love it, wear it all day.
Mike G.-AZ
Very satisfied! Excellent workmanship and perfect rmr cuts for my Sig P320rx. The holster has the perfect amount of passive retention. It secures the pistol and still allows for an easy draw. RRT, you have earned a repeat customer.
~M.G.
Mike L.-OH
Thanks Red River Tactical for your excellent service and very high quality Holsters, The Type 1 V2 (OWB) for my Sig Sauer P320RX fits absolutely perfect to the minute detail! Ordered the Type II (IWB) for conceal carry soon after for my P320C and the same results, excellent fit and High quality craftsmanship, very comfortable for everyday carry and superb concealiblity! Another huge thanks for catering to us southpaws also! I will send my friends your way!
Cam W.-TN
Red River made a IWB Type II Holster for my Taurus 709slim and it's amazing. I'll never buy any other holster. Great for quick draws and very comfortable carry. Very very happy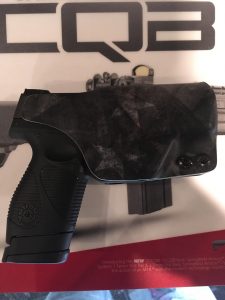 Ed-GA
I ordered an advanced cut owb holster for my Sig p320rx and it surely is perfect in every way. The fit and finish couldn't be better and it was shipped in less than a week. I now have mag holders on order to match the holster. simply put, I could not have been more pleased with RRT.